From cottage cosy to royal comfort, an alcove bed is a splendid update to almost any home interior style. Once you begin looking at the various examples, you start realising how versatile it is and how much it can do for your space. It's got such a different way of compartmentalising the room and actually leaving room for other things.
We found 12 stunning alcove bed examples for you to inspire you home renovation or to add to your designer portfolio. You will find this choice to be a wonderfully cosy, sheltering space to delight children and adults alike.
The Attic Alcove Bed
Given that an attic can be full of light, it is wise to take advantage and create a small bedroom in it. The inclined walls and windows make for the ideal reading place. You'll find this to be just right for a bed placement, without having to make many modifications. The nook-like space is already there. Besides, this lovely place of yours can feature any style – you may choose one that is completely different from that of the rest of your home and let your fantasies unfold.
Sheltered Alcove Bed Under an Inclined Wall
Do you have an inclined wall that's kind of troubling you in your home design? No piece of furniture seems to fit there? You can use it for the placement of a custom-made alcove bed. It doesn't have to be one for night sleeping, but rather for reading, daytime relaxation, or perhaps for letting the kids play in it. Attic-style inclined walls are excellent in this regard. It is a good idea for having the space separated by curtains but not necessary. Decorate the space with cute pillows and blankets.
Fixtures Under the Bed
This requires you to place the bed way up high and connect a ladder. In the space that remains underneath, you may have any fixtures you deem necessary. For example, in the image below you can see bookshelves, art and a fine reading space. It's a brilliant setup if there's not enough room for both a bedroom and a living room. Take note though, this combo is suitable only to those who have the energy to climb that ladder whenever needed. It's a youthful setup that will please the unpretentious. Add heavy curtains or light veils if you wish to have some camouflage for the bed at times – whichever suits your style.
Alcove Bunk Beds for Kids' Bedroom
An excellent design gimmick is to have two suspended beds in the children's bedroom, or two and two, as in the image below. The frame must be a solid one, and it will also allow you to incorporate storage space in it. Paint it in the happy colours of your choice. The kids will love it and you'll be saving loads of space with this functional and compact design. Ever since we've seen this, we believe it's simply the best idea for a crowded bedroom.
The Space Between Two Dressers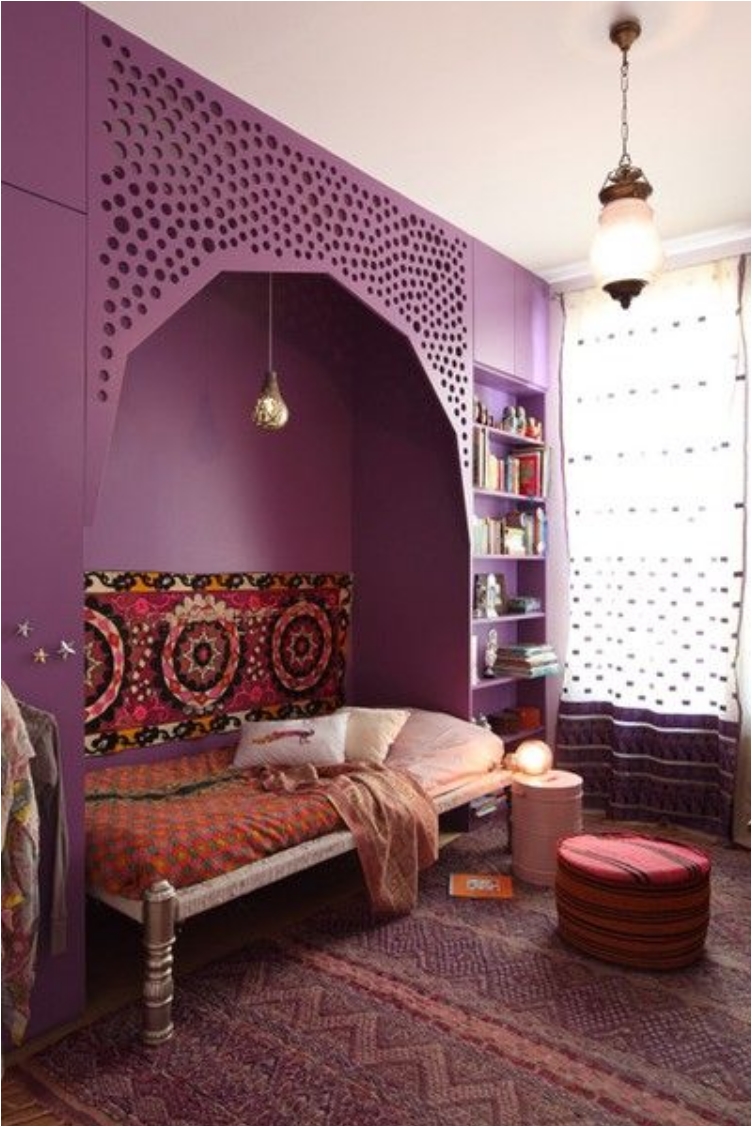 Whether you have two similar dressers or cupboards, the space remaining between these can prove extremely useful. If it's enough to fit a small bed in between, go for it. The wonderful Bohemian example below shows how effective it is and how great it can look. You may adorn the wall space with a large painting or print. Or, you could install a canopy above, depending on the envisioned style or the current furniture you have.
The Carved-In Alcove Bed
You don't seem to find any appropriate place for your bed, even if it's so narrow. Consider this design solution for narrow, single beds. Have a nook 'carved' in a wall – you may give it any shape on top: a nicely rounded arch or a triangle are the most flattering. Use it only to place your bed. Thus, the rest of the room remains intact and you can freely organise all other furniture pieces, without needing to save room for the bed. Besides that, it's quite a cosy setup, especially if you have a big window on that wall. Actually, many things can be done with that wall. You can fill it with art, paint it, or leave it simple, for a calm, meditative, minimal look.
Bed Under the Stairs
This placement isn't easy, it won't suit any house, but if you get it right it's simply stunning and oh, so useful. While most people opt for a closet, a book nook, shelving and other such fixtures under the stairs, it's completely unexpected to save this space for a bed. If the architecture allows, have a large square one, like in the picture. It will be your extravagant relaxation place. Garnish it with anything you feel like, from luxurious bed sheets to cosy rustic blankets. Add atmospheric lighting and you can turn it into a shelter-like structure.
That Weird, Narrow Spot in Your Home
There are certain homes with weird nooks, small demi-rooms and all sort of spaces envisioned to serve as tiny kitchens, closets and so on. You may revolutionize the concept and use it for a bed placement. Tucked away in a place like this, your small bed would be like a cocoon, giving you a wonderful place for isolation.
The Nook That's too Small for a Bed
It can still fit a bed. Sounds absurd? Let's see: perhaps a room in your home has a nook similar to the one in the photo – only several inches deep. That would still allow you to place your bed and transform it into an alcove bed. Have its headboard pressed against the wall and then there will be less of the bed's length inside the actual room. Thus, you'll be enjoying more space and the bed itself will be nicely framed. It's a totally inspired setup, and if you can add some shelving, it's only for the better.
The Sofa Replacement
We all know the struggle of having one room which needs to serve so many purposes. If you need a regular sleeping bed but also a couch for your daytime relaxation, you may be disappointed that there just isn't enough room for both. It's understandable not everybody wants a folding bed or anything similar. If you're lucky to have an alcove, the solution is at hand. See the image below and the way the small bed fits in the window alcove. It is a perfect couch replacement and saves a great deal of space. Adding a regular couch in there would be obnoxious and ruin the whole room.
An Alcove Bed for Your Dog
And finally, why not use that too small alcove to house your pet? The nook may be too tiny for any of your furniture pieces and your dog may be too big for a regular pet bed. Therefore, why not create a comfortable pet bed right in that place? It's also got the advantage that it's quite well hidden so it's not bothering anyone, should there be such concerns. Plus, your big dog will have their own space, without others interfering. We think the ideal placement is underneath the stairs.
The Painted Alcove
This may be considered an alternative to accent walls. If you can successfully place an alcove bed in your house, it could be interesting to have it separated from the rest of the room by painting the alcove walls. This would turn it into a space with an atmosphere of its own – a different world, if you want so. It could thus be your special retreat, where you can have your own dreamy universe.
Save these ideas if you're moving or redecorating – you might just find the ideal solution for your home, sweet home. An alcove bed will satisfy your craving for shelter, not just comfort. No wonder it's becoming such a trend in home projects and interior renovations. On Instagram, you can find even more examples to convince you.