Ah, Japan! Of course you are excited about sushi restaurants in their homeland and sakura-filled views. But, wouldn't a true Japan lover step off the beaten path and season their far-east journey with all the unusual experiences the country has to offer?
Open your agenda and mark down these peculiar places to find across Japan. We have discovered some of the most unexpected, weirdest, truly unique places that turn Japan from fascinating to completely unforgettable. Now, buckle up.
The Macabre Vampire Cafe in Tokyo
A Gothic Vampire Cafe is something you would expect to find in the Western World and especially in Europe, where vampire legends abund. However, Tokyo has its own and it's garnished with all dark things you'd expect: coffin-shaped dishes, coffin tables, red velvet cushions, Baroque furnishings, skeletons and, of course, plenty of wax candles.
The cafe is situated in the Ginza commercial district and its red and black theme stands in stark contrast with the surroundings. Inside, every detail is on point: the waiters' tuxedos, the French maid outfit of the waitresses, the dim lights. You can certainly envision Bram Stoker dining here, or even Count Dracula himself.
Traditional mochi pounding in Nara
You'll be eating a lot of mochi (sweet rice cakes with filling) during your stay in Japan. However, not all mochi is made equal. The Japanese know it well. This is why they are so bent on preserving the traditional art of making mochi. Witness the process several times a day at Nakatanido, close to the Kintetsu Nara Station.
If you can't make it to Nara, go to Katemura in Tokyo. The boiled rice paste is vigorously pounded out by hand in a large mortar while shouting 'Yoi-sho! Yoi-sho!'. In a traditional mochi atelier like the one in Nara, you will enjoy this process, as well as the unique aromas from all ingredients involved. These are so specific and so lovely that Zara created a perfume to encapsulate the true aroma of the traditional mochi.
The Cat Island (No Dogs Allowed!)
Liking cats more than people? No problem! This place is perfect for you – the cute feral felines outnumber humans on the Tashirojima island, reaching hundreds. It can be a perfect place for relaxation, given that you will encounter less than 100 people on the island. A similar location is Aoshima, albeit much smaller. There are literally large groups of cats, as these have bred freely, having no natural predators on the islands. Watch the feeding times and see how cats gather in hordes.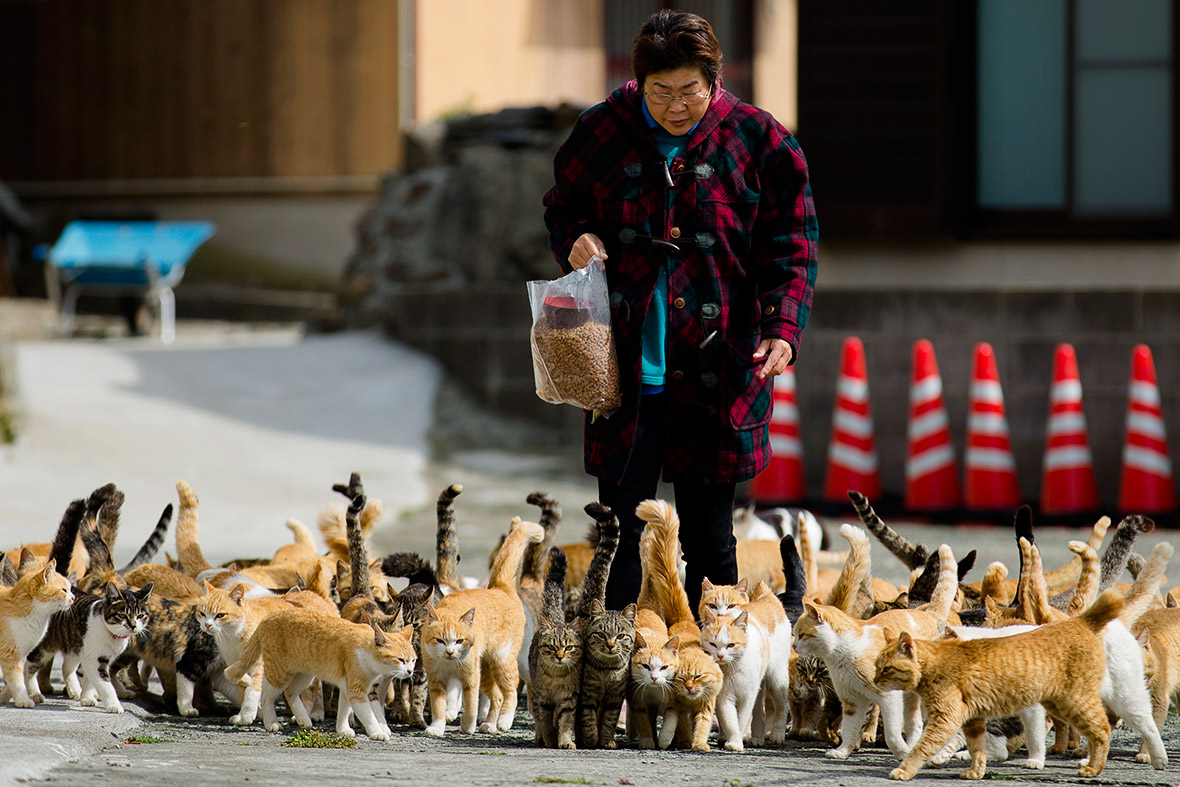 The Bamboo Forest of Kyoto
We could say an all-bamboo forest must be an extraordinary sight in itself, due to the slender stalks and the specific green. However, there is more to the Sagano bamboo forest in Kyoto. It's got a music of its own. The bamboo stalks grow several metres tall and, as they sway in the wind, they create a unique soundscape. It truly feels like in a natural cathedral.
From between the stalks, one can barely catch a glimpse of the sky. Take time to listen to the cracks of the wood and make sure you're not visiting in the crowded hours. Soon you might find yourself immersed in meditation, if you succeed in catching a quiet time.
The "Black Castle"
This is the alternative name given to the Matsue Castle, originally build in the very dark shades of color we can see today. It is rather unusual for Japanese architecture of that time – the early 17th century, to be painted in such dark colors. Its sight is certainly impressive. The moat around it, along with its rough yet sophisticated exterior, make for a great-looking battle fort that is sure to look great in photos, as in real life.
The Bizzarre Doll Tradition of Nagoro Village
In the Nagoro village, visitors can spot dozens of scarecrows everywhere. Their current number is said to go beyond 300, with ten times fewer living inhabitants. These scarecrows are actually lifesize dolls put in varied places: at bus stops, in schools, next to homes and shops etc. These are meant to represent real people who lived there but no longer do. Some of them moved away, while others are now dead. Their image is meant to resemble that of the represented person and locals are treating the dolls with great respect. For the visitor, it is a sight to behold. The entire collection is the work of a single person.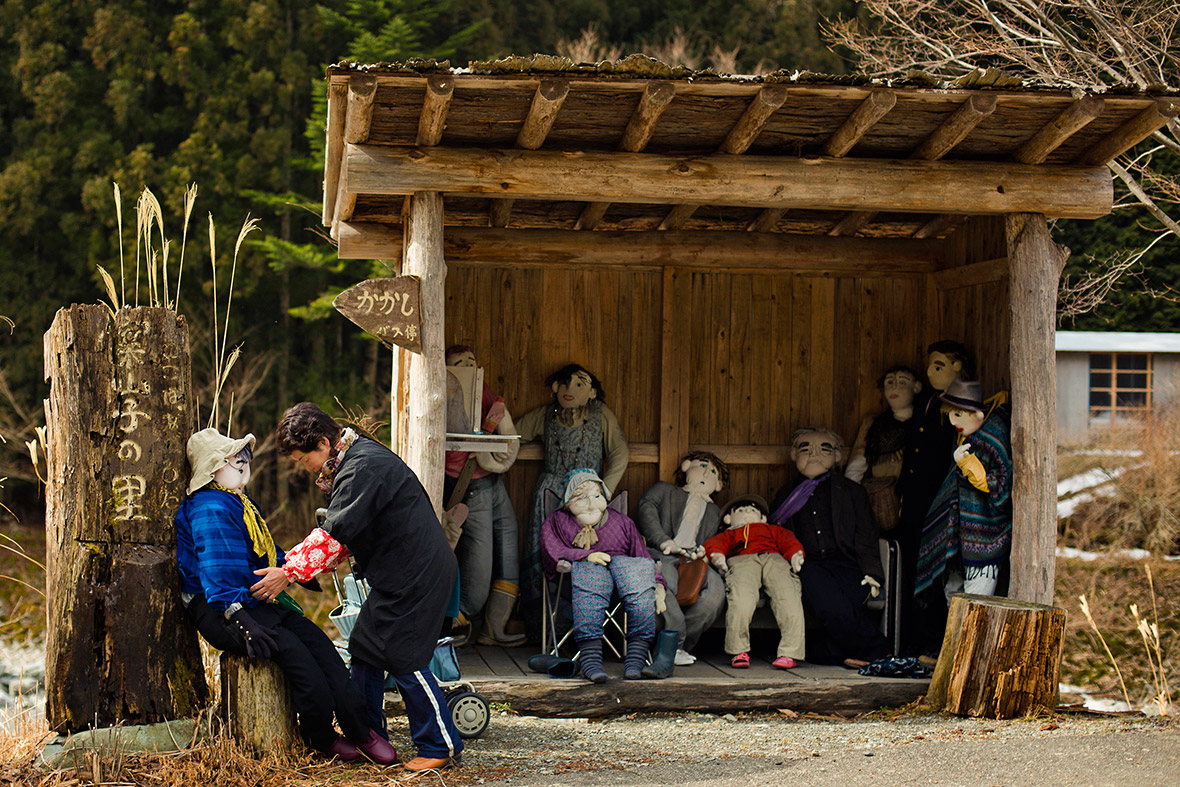 The Hedgehogs Cafe in Tokyo
Japan is known for its many animal cafes and your guide will probably take you to one that's featuring cats, as these have been the first and most popular ones. However, the offer is wildly varied now. We recommend ChikuChiku Cafe, where you can relax among small and adorable hedgehogs and even hold them and feed them. These hedgehogs live in a funny environment, in structures resembling doll houses.
The Kabukicho Robot Restaurant
Also in Tokyo, this peculiar restaurant offers truly unexpected entertainment. Find it in the Kabukicho district in Shinjuku. It's the place for cabaret with android girls among crazy neon lights and all sorts of robotic characters courtesy of pop culture. You wil even encounter Star Wars stormtroopers in this bizzarre place. Some of the robots are gigantic. The shows they offer are intriguing, complete with complex dancing and even synchron. It's not all robots, though. The restaurant also features living entertainers who pun on a show.
French/Japanese Cabaret Bar
This one is definitely a strange mix and probably isn't often recommended as a very Japanese attraction. Shisui Deux in Tokyo is inspired by French cabaret but adds a solid dose of Japanese style to it. It's strange but it's surely worth it. The dancers are full of energy and their big dresses are like their European counterparts. The location isn't big, it's basically a pub.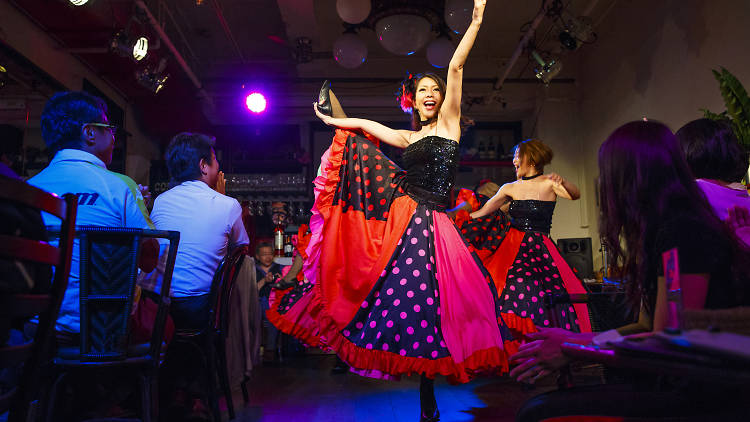 The Oya Caverns Museum
The Oya History Museum occupies the stone caverns of Oya, formerly used for mining. The mood here is very different from what you'd expect in the far East. It rather reminds of Rome or Egypt with their ancient ruins. This has made the location popular with movie and music video professionals. However, it is still largely unknown to the general tourist.
The Unusual Komagata Dojo Restaurant
While you can sample Japan cuisine exotism at any given place, why visit this restaurant specifically? Simply put, it takes you back in time. Clients can eat just like the Japanse did in the Old Edo era, meaning in the 1600's, where food was made and served in a different fashion. The ingredients, the cooking methods and the dishes are all in line with the said historical time and make for a weird, yet very satisfying experience. Note that the menu mainly revoolves around the eating habits of the peasants in Japan.
Alcatraz Prison Cafe
Alcatraz E. R. in Shimbuya definitely hits top level in strangeness and may not be everyone's cup of tea. The place looks like a horrifying, worn-down prison where visitors don't know what to expect.
The food comes in various original dishes, while you may have your drinks in a baby bottle or as a syringe shot. Or, you could have in a regular glass but stirred with an adult toy. Truly, you won't know what you get until you see it and it will probably shock you. At least the waitresses are cute, in their mini nurse costumes. Be warned though, there are many horror displays scattered around. This weird Tokyo venue is suitable to a Halloween party and not for a romantic date.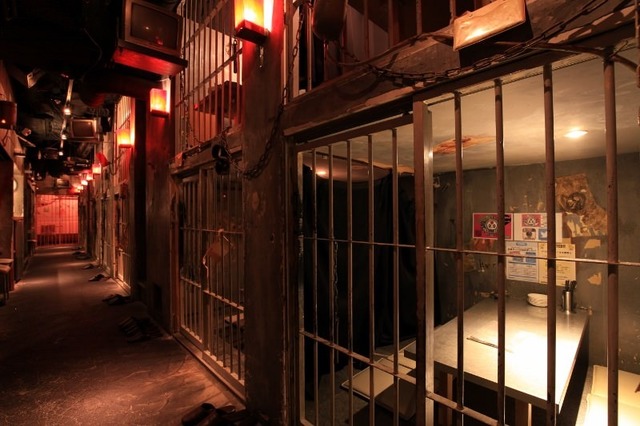 It's likely you will have stories for a lifetime if you visit Japan. Since you're putting in the effort of planning such a trip, it would be a shame to leave it up to basic guides. We are certain that this guide will bring you more than your typical tourist fare. Get ready and enjoy a truly unique experience in its weirdness.